An effort into making a handmade gift itself is wholesome and heart-melting. And what else is a better way to show your beloved boyfriend how much he means to you through something made out of your own hands and ideas. Executing a thoughtful DIY gift for your boyfriend is the sweetest way to show him how much you care for him on any special occasion be it his birthday, an anniversary, or Valentine's.
This article will provide you with ideas on how to surprise him in the sweetest way by giving him a DIY gift on any memorable occasion.
23 Best DIY Gifts for a Boyfriend
Remember When – Memories in a bottle

Remember when? Send a bottle full of memories to your someone special. The most memorable times you spent with your boyfriend are always to be cherished. What a perfect way to remind him of all the good times and moments than recalling them and saving them in a place. Just make tiny notes of your most memorable moments together, roll them up and put a nice little red ribbon around them in a jar and gift him this to save for eternity. A glass jar, a few card notes, and a journey down memory lane are all you need for this handmade gift. Once the memories are collected, this bottle is a great DIY gift for a boyfriend on special occasions.
Our ABC's Book

You can mold your relationship into all the alphabets and make your own 'ABC's book' to gift your boyfriend! All you need is a notebook, a marker, and a route down your memory lane. You can simply dedicate an alphabet relating to your relationship or a memory of you two together. For instance, "S is for sushi, our favorite meal to have together", or "T is for Times Square, where we met for the first time", and you can keep going and make the alphabets turn into a love language.
Handmade Candy Card

A usually handwritten card might be very boring but you can elevate it by adding a sweet touch to it. This will definitely satisfy your boyfriend's sweet tooth and he will end up craving for more! You can make a candy card in a very easy way and it would require minimal supplies to make as well. All you need is his favorite candy and chocolate bars, a marker, and a card sheet. Just customize a romantic and heartfelt message by inserting the candies over certain words in your message. He can devour his favorite sweet treats while reading a heartwarming message from you!
'Where we first met' frame

Every first is special in a relationship. And what else can be more special than the place where you met your boyfriend for the very first time. A place where the universe conspired to bring you two together. You can get the location on a map printed and get it framed mentioning the date as well. Or you can get the coordinates of that place printed and framed. Gift this to your boyfriend and see him have all the flashbacks of the time and place you two met for the first time to have it forever.
DIY Wooden Desk Calendar

This diy wooden desk calendar from the crafty gentleman site is a beautiful gift for your boyfriend. To add a little bit of romance to this DIY gift, mark with drawn hearts on the calendar all the dates that are important to you and your boyfriend: the date when you first time kissed him, the date when the anniversary of your relationship is…

Heart photo canvas

One of the simplest DIY gifts you can offer to your boyfriend can be this heart-shaped collage of your pictures together. A frame or canvas of any size desirable can be used along with the most memorable and precious moments captured. You can trim some of them as needed or use others fully to shape a heart sticking them all on the canvas. This can be made in minimal time and will only take you a few hours to assemble this gift but would be a heartwarming one for your boyfriend.
Reasons you're a Catch

If your guy is a baseball fan, this is the perfect one for him! He can be told that by his own personalized baseball present which is super easy to make. He would definitely never let this one out of the ground. Get a ball and a pen and write down all the reasons why he's such a catch on it! Once you're done just throw it at him and hope that he doesn't miss this catch!
Wheel of memories

This is a perfect DIY gift for your boyfriend if you are in a long-distance relationship and don't have the luxury to see each other often. You can gather your pictures with him every time you get to see each other and make a memory wheel out of it. Either stick the pictures around the wheel or use colorful clips. Gift this to your boyfriend to let him know how much you cherish the times together and how the memories can help you two get through the distance perfectly.
Pictures Map

This is an amazing DIY idea if you two are traveling enthusiasts and love to wander around the world together. Gather the pictures of you two from all the trips you two went on and a map. All you need to do is replace the states or countries you have traveled to with your pictures clicked there from a trip on the map. For instance, if you have been to Hawaii for a skydive, replace the state with a picture of you two in the clouds. For New York, put a click of a good time you two had at Times Square in place.
Song Lyrics Frame

All of the couples have this one song which is really special and close to their hearts. Songs are a love language that can channel feelings without even speaking. For this DIY gift, all you need is a frame and a picture of you two. You can write down the lyrics of the favorite song you two share or his favorite song and stick a picture of you two right in the center of the frame as if having the lyrics radiate from it.
Chocolate Buttercream Frosting

The quickest way to a man's heart is through his stomach. Chocolate is an emblem of romance. If your boyfriend loves chocolate make this Chocolate Buttercream Frosting and it will almost magically work on him and he will only love you for the rest of his life.
Love Jenga

How about a fun game played together with a touch of warmth and love? You can create your very own Jenga and make your boyfriend feel extremely special. You will need some Jenga blocks to write love phrases for your boyfriend so that every time he takes out one, he can read out a love message from you to him.
Sticky notes heart frame

You would definitely have a few colored sticky notes and a marker at home. Why not create a gift out of them in a little time? Pen down your feeling and emotions for your boyfriend on the sticky notes and stick them together in the shape of a heart on a frame. You can use all red-colored sticky notes or even colorful ones. What matters is you pouring down your feelings on those notes and having your boyfriend read them every day.
Scrabble Frame

Does your boyfriend like playing with words? You two might play scrabble together but you can use the tiles to create a DIY gift for him. A frame or a shadow box, a cute picture of you two, and some scrabble pieces are all you need for this. You can arrange the scrabble pieces in any message form you want. For instance 'Love You' or 'Forever together', or any other loving phrase and stick them in the frame or shadow box.
Beer cap frame

This one is an innovation on a simple picture frame that can be personalized with your boyfriend's favorite beer caps. You can collect the beer caps whenever you two go out to have some or gather some from his favorite ones. Take a picture frame and stick the caps around it with a picture of you two inside. A very simple and easy-to-make DIY gift with a thoughtful perspective.

Storybook

Why not turn your love story into a real storybook? You can utilize your creativity and skills of storytelling in your personalized book. Make your boyfriend the main character of the story and doodle away his comic world. You can build the plot of the story from your real-life events and add an element of fiction by mentioning your boyfriend's dreams and turning them into reality in an artistic way. This will take him on an unforgettable journey. You can also make a comic one with him as his favorite comic hero. Wouldn't he love to be the Ironman or Captain America! Get a hardcover printed for the cover of the book picturing the characters of your life and bind the book in a cute way and start writing the most epic story of your boyfriend's life!
Heart tea bags

This can be the perfect brewing gift for your boyfriend if he is a fan of having tea. You can collect a variety of his favorite tea flavors or introduce him to a few new ones and make heart-shaped tea bags at home. All you need to create this is fillable tea bags, cut them in heart shape, and sew them with a red or a pink thread to give them a cute look. Make sure to leave the top open to fill your choice of tea and sew the entire tea bag afterward. Next, you can attach red or pink threads to the tea bags and stick a little heart on the other end. Gift these to your boyfriend so he can use them whenever he wishes to have a cup of tea, or you two can share these together after a tiring day.
Easiest Balloon Garland

Balloon Garland makes a perfect decoration for any celebration! It's not that only girls love balloons. And guys love balloons especially if it's for the. Fallow this Easy Balloon Garland Diy to find out how to make it for a boyfriend's surprise party.

Milestone maps

Every step in a relationship is special for any couple. This gift will keep your boyfriend reminding the milestones you two have achieved together. This is a very cute DIY gift and very easy to make. Just cut out the sections of a map relating to your significant milestones and stick them in a heart shape on a frame labeling each of them below. You can add your first home, your wedding, your first trip together, or your first date.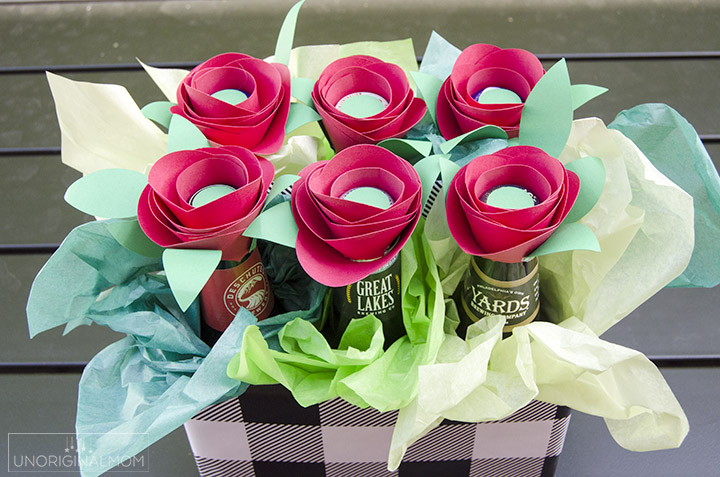 Beer Bouquet

A good old rose bouquet is a repeated gift but why not amp up this ordinary gift into something unique? Collect a few bottles of your boyfriend's favorite beers and make a bouquet out of them! Make a cute carrier out of a shoebox or a cardboard carton to place the bouquet bottles. For the beer bottles, just fill them up with green tissues, and paste some handmade petals shaping into a rose on the top of the beer bottles. He will definitely be surprised to receive this unique bouquet!
Vacation Keepsake

This is the perfect DIY gift if you are short on time and supplies! Taking your boyfriend down memory lane by this vacation keepsake box will be a perfect gift for any special occasion. All you need is to gather the souvenirs or anything you kept as a memory of your vacation trips and put them in a decorated or hand-painted wooden box with a special message on it for your boyfriend. The box can include polaroid pictures, subway tickets, stamps, or even randomly picked flowers from the vacations. Your boyfriend will definitely admire the efforts you would put into preparing this vacation keepsake for him.
Romantic photo collage

This can be the perfect gift for your boyfriend on an anniversary. This will remind him of all the seconds you two have spent together until now. You will need a frame, A paper sheet cut out in the number you two have been together for, a few pictures of you two together, and a calculator to calculate the number of months, weeks, days, hours, minutes, and seconds you have spent together. Just stick the picture around the number and using calligraphy pens or stencils write down the calculated figures and place them inside a frame.
Personalized photo clock

This can be a unique gift for your boyfriend on his birthday or an anniversary. The personalized clock can exhibit the moments all around the year expressing how your memories are special every single second of the time. You can use a clock for making this and replace the numbers on it with sticking pictures of you two. It can also have pictures clicked from every month so it can replace all the numbers on the clock.